Content area
Welcome to Make It Mosaics!
Helping you piece together your first or your next mosaic project.
The hardest part is always the start in any new creative adventure. Selecting materials, knowing what tools you need and finding a design may feel overwhelming. We're here to take the guesswork out! Whether you want to learn the craft of mosaics or share your love of the art form with friends or family starting with one of our mosaic kits will kickstart the mosaic journey giving you everything needed to complete a successful project.
Starting with eight unique designs, offered in 2 different materials, both contemporary designs and ancient motifs you will find everything you need in one box! Watch as we expand our collection to add more designs and materials. We've also created some tool kits for those of you that have your own projects in mind. Each kit is designed to make it easy for you to get started and choose based on the materials you are working with, be it ceramic, glass, or mixed media, we have a tool kit package for you.
Make it Mosaics doesn't end with kits and tools please visit our YouTube channel for detailed instruction on grouting, gluing, thinset, nipping and cutting tips, complete project instructions and so much more!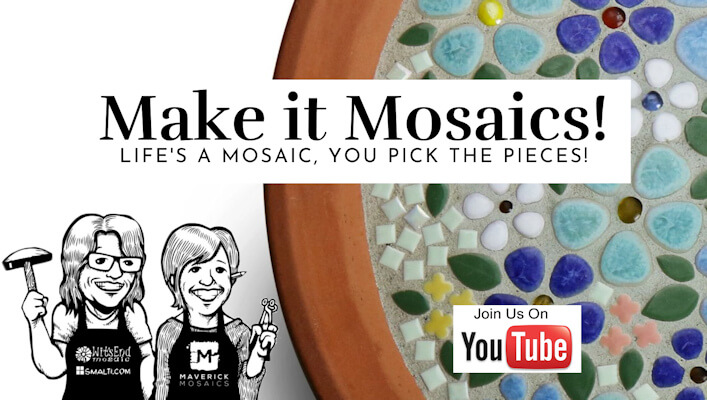 Make It Mosaics kits, YouTube Channel, and this website were created by Bonnie Fitzgerald and Kim Wozniak out of a passion for bringing the art and craft of mosaics to a wider audience while helping newcomers skip the trial and error phase with sound technical instruction.
Bonnie is recognized nationally and internationally as a spirited and technically skilled art educator. She is the instructor of "Contemporary Mosaics" for the Smithsonian Institution's Studio Arts Department and has written 2 best-selling books about mosaic making. Kim Wozniak is a walking encyclopedia of knowledge grounded in the construction and building trades. Her studio practice has yielded several award-winning concrete and mosaic artworks. Kim is the owner of WitsEnd Mosaics & Smalti.com, suppliers of all things mosaic.
Enjoy your mosaic journey and thank you for allowing Make It Mosaics to show you the way.